lucky bamboo, herbs, flowers and life
Thursday, April 13, 2006,9:37 PM
How to choose Plants for summers: part 3 - Canna Lilies
Welcome to part 3 of How to choose Plant for summers series.
"Cannas are not for the faint-hearted! But it is for these flamboyant characteristics that the hot-headed among the gardening fraternity will choose them." – Ian Cooke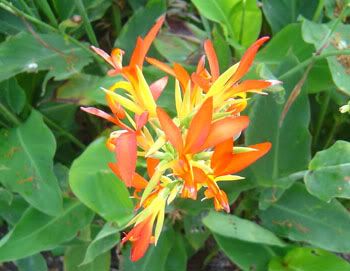 Cannas or Canna lilies are lush tropical plants with leaves that fall into the "large" to "huge" range with vibrant blossoms on tall stalks. Foliage may be green, bronze, gold, or mulitcolored, and the tropical look is further enhanced by flowers in apricot, pink, gold, red, orange, and white. Plant can reach anywhere from 3 to 10 feet depending on the variety.



Planting:



Cannas can be planted in the spring. But after the danger of frost is over and soil is warm. Find a location where the soil drains well. Prepare soil to a depth of 12–13 inches and mix in 5 inch layer of peat moss, compost or decomposed manure.
Cannas needs atleast 5 hours of direct sunlight. So choose the site which gets full sunlight.
Plant the rhizomes flat an a hole of depth 5–6 inches. Press it well.Make sure the eyes are pointing up, if visible. Cannas Don't have a top or bottom parts so don't worry if you can't see any eyes.
Cover it with 3–4 inches of soil and water it thoroughly.
Care:
Apart from weekly watering and 4–6 hours of direct sunlight cannas need very little care. General purpose fertilizer works well for this plant.
Dead head old blooms to give plant a better look. Seed pods forms easily if the old blooms are left on the stalk.
Cannas is very hardy plant. As a matter of fact there is a risk of cannas taking over the rest of the garden. So keep a watch and dig out the rhizomes when they start growing in excess. I still remember when I was a kid I spent one weekend with my younger siblings pulling out the plants and playing javelin throw.

No doubt they are so popular among home gardeners and professional landscapers because of their beautify flowers, green leaves and extended flowering period.



older posts in this series


How to choose Plants for summers from bulbs part 1 – Crinum
How to choose Plants for summers part 2 – Caladium
posted by RM

Permalink
¤